11.11.2019
Aunit review as of Nov 11: buy on support 0.0300
Hello, let me start today's review with the news about the finished stage of the Aunit-Rally 2019 . According to the campaign's results, three winners received their prizes. Winners were selected with the help of the Randstuff app. The information about the prize winners is available on the Aunit Group website.
It should also be noted that there will be another round scheduled for November 18 with a very interesting prize, namely, the giveaway of 10000 Aunit tokens. This information should grab the attention of traders and investors working with the Aunit token.
We also should not forget about the coming season of big discount: "11.11", "Black Fridays" and big New Year's sales. During this period, buyers are more active about cashback services, which will benefit not only the Aunite Group, but also its token.

Aunit vs USD analysis
The previous trade ended at around 0.0500. You could have made profit on this movement as per my previous recommendations. At this stage, the token has rolled back again to the beginning of the previous and subsequent trends. And again, those who listened to my recommendations on placing an order in case of a rollback down are again in the market with profitable purchases of 0.0240 — 0.0300. If you haven't entered the market after the previous profit taking, then it's time to make a Buy order, as the Aunit token is strongly supported at around 0.0300. Since the cryptocurrency market is easy, the Aunit token market is even easier, you can catch shadows below support 0.0300. After a downward rollback, the Low is at 0.0240. However, it is impossible to guarantee that the price would reach this rate again. Therefore, it makes sense to buy from the market around 0.0300.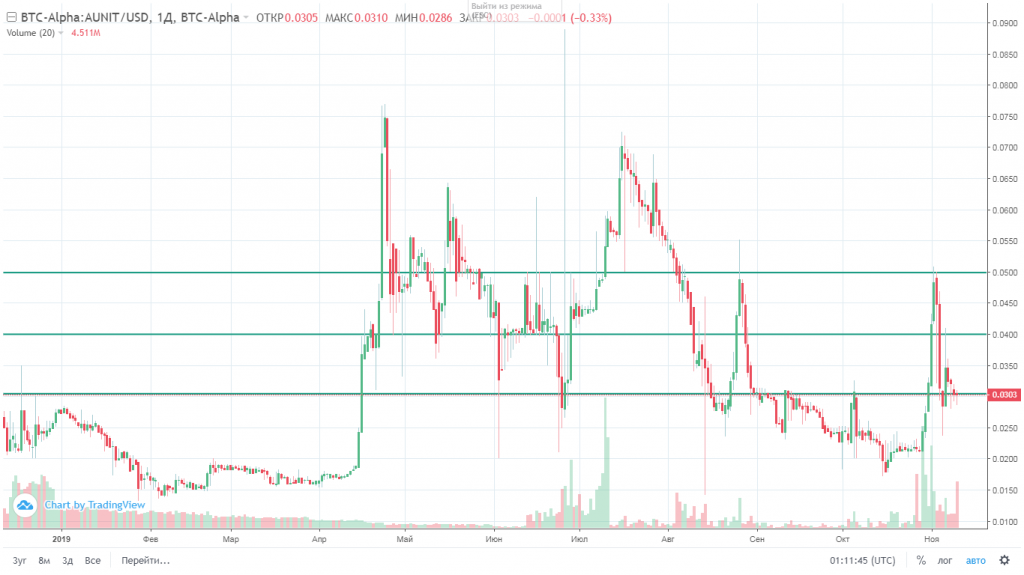 Technically, the situation will develop between the levels 0.0300, 0.0400 and 0.0500. If it rolls back to ​​0.0400 in the coming days, we will get a "double bottom" reversal model, which will give an additional chance for a workout to 0.0500. If there is no double bottom and the rate remains at 0.0300 for some time, then we get just three levels from which it will be possible to work. In any scenario, buying at around ​​0.0300 is one of the best options for entering the token.


Aunit vs BTC analysis
The situation with the Aunit token against Bitcoin is encouraging. There is more activity now. However, entering the tool is either too late or too early. With the rebound from 0.00000250, the rate have almost worked out to the first target 0.00000500. The next Buy option may occur around this goal, provided there is a correction. Otherwise, we can get a simple rebound and return back to the support 0.00000250. The tactics of working with this tool are simple: we are waiting for a breakthrough of resistance of 0.00000500 or a rollback to 0.00000250. In the first case, correction around 0.00000500 is necessary; in the second case, it is enough to open a pending order in the support area.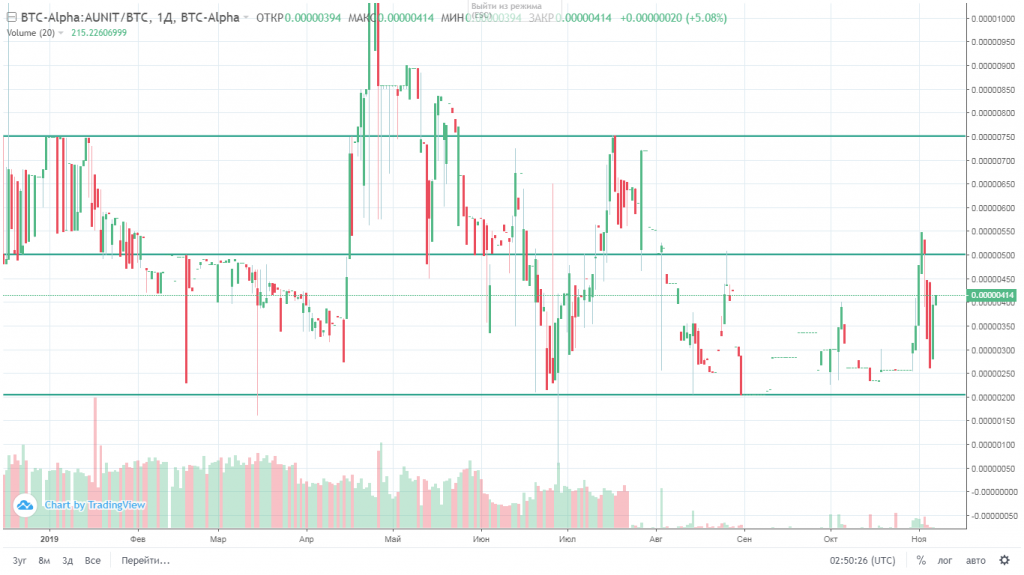 After its breakthrough of the resistance 0.00000500, the target will be the next mark around 0.00000750, but given the ease of the cryptocurrency market in general and the Aunit token in particular, a correction around ​​0.00000500 may not happen. A cryptocurrency pair can make a very small stop and continue to grow. If for some reason there are no open positions at ​​0.00000500, you can always buy just on a breakout of resistance of 0.00000500, but you need a protective stop order under any pullback at any intraday interval, or be prepared for rollbacks to 0.00000250.


Aunit vs. ETH analysis
Trading volumes on the Aunit token against Ethereum remain very low. Trading is very sluggish between support 0.000116 and resistance 0.000273. So far, you can work here only with pending orders or take on a large spread. Like all previous tools, this one is oversold.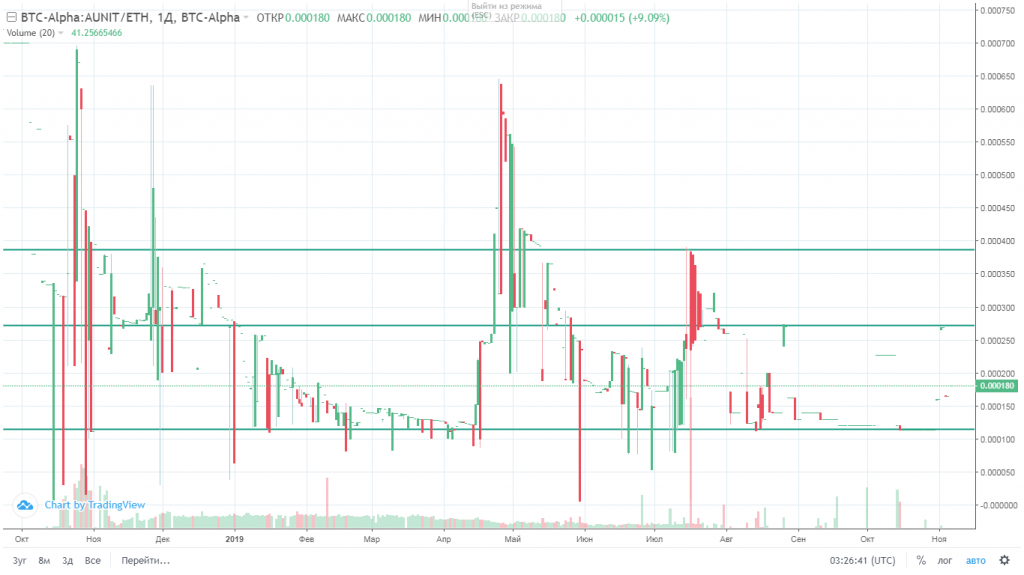 Therefore, it makes sense to work only on a purchase with profit taking on resistance. Here, the resistance presents at 0.000273 and 0.000388. So, you may buy at ​​0.000116 with a pending order. Alternatively, you can buy on a rollback from the market, however, the spread is likely to be very large.

Good luck to everyone, bye.