09.12.2019
Aunit token's review as of Dec 12: Macbook Pro for … $30
Hi! The title of my review is referring to the Aunit Rally. Indeed, as early as on Dec 11, this Wednesday, the campaign ends and its winners will be announced. The situation for buying Aunit tokens against the US dollar remains favorable from a technical point of view. In addition, everyone has a chance to win iPhone X when buying only 1000 Aunit tokens. At current prices, 1000 tokens will make $30. Thus, you can combine two goals: buying Aunit with a chance to win the Rally, as well as to invest in the token to gain on its growth further.
The second story I'd like to mention is that from December 9 to 15, the corporation will run its forum at the Vega Izmailovo Hotel, Moscow. The program will present the summary of the expiring year, speeches by invited guests and top executives of the company. Of course, it is a great place for communication and exchange of experience. This forum will also announce the results of the competition among the Wulet app's users and Aunit-Rally 2019.

Aunit vs USD analysis
From the technical point, the situation on the Aunit token against the US dollar is developing around the support 0.0320. In fact, you can replace the old levels of support and resistance with new ones and among the new ones the next two levels will be 0.0320 and 0.0380. At the moment, we are on the support 0.0320 and there is a chance to buy a token at a good price. Running up means moving towards the first target 0.0380. The cryptocurrency pair can move higher, but only after a breakthrough of this resistance.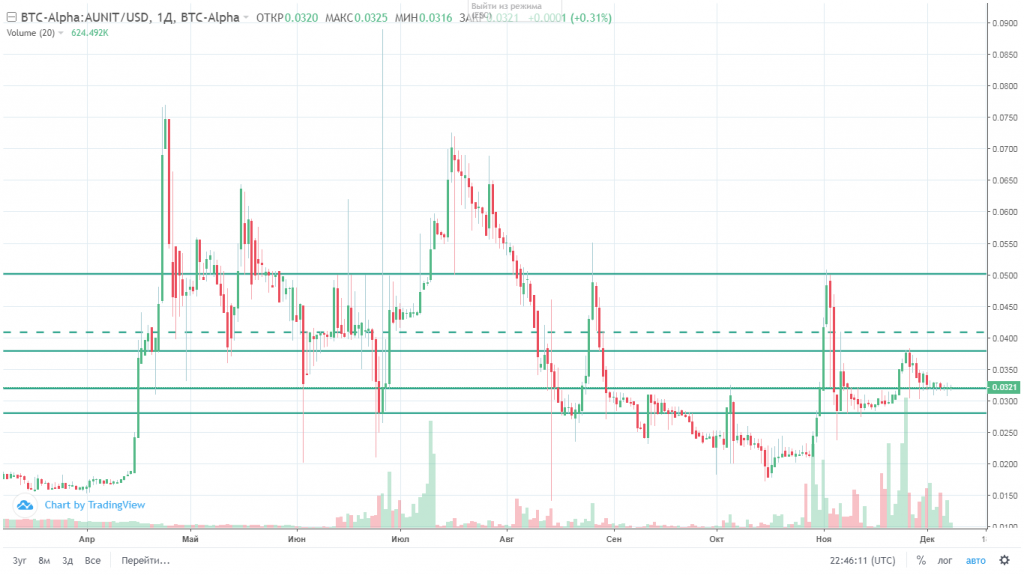 The probability to push the support 0.0320 certainly exists and in this case having a few buy orders at 0.0300 and 0.0280 may be helpful.
As for moving at 0.0380, there is a breakout option as well as the option for the price to bounce back to 0.0320 and then to 0.0280. Both options will be technically beautiful, as there is a wider flat correction between the levels of 0.0280 and 0.0380. Therefore, when buying at 0.0320, it makes sense to partially take profit at 0.0380, leave part of the transaction in case there is a trend to 0.0410 or 0.0500.
Considering the Aunit Rally is about to finish these days, the rate may get to 0.0380 or higher during Monday — Tuesday.

Aunit vs BTC analysis
As for the Aunit token against bitcoin, an unfavorable situation for purchases remains here. The rate has recently rebounded from the resistance 0.00000500 and now it remains to wait for either a rollback to the channel's support, or a return to test and a breakthrough of the resistance of 0.00000500.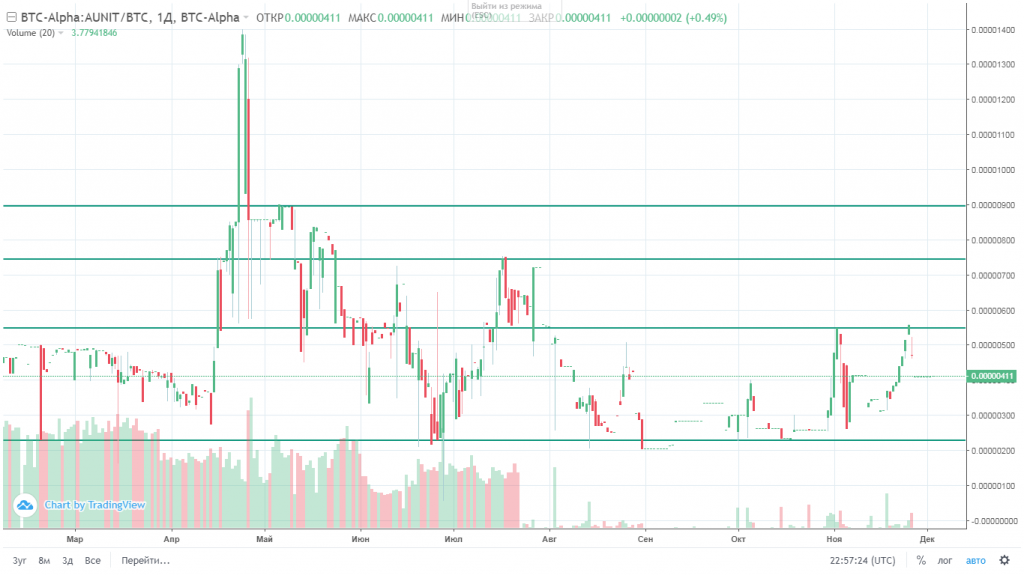 Speaking about a rollback to support, then this is the area of ​​0.00000230, where you can safely put pending Buy orders just for the case of a rollback and wait. The option with a breakthrough is more interesting: to reach it, the price must first return to resistance 0.00000500 — 0.00000550, produce a local resistance and break it enabling a buying option in this place. In the case of a breakthrough of resistance 0.00000550, the next target will be at around 0.00000750.

Aunit vs. ETH analysis
There is still a very low activity on this instrument. Those who work for the medium term, of course, can buy this pair from the market, but only pending orders remain to be an option for a trader. So, at the moment, pending orders can be maintained around the support area of ​​0.000111. In general, the pair is not interesting for speculators, yet.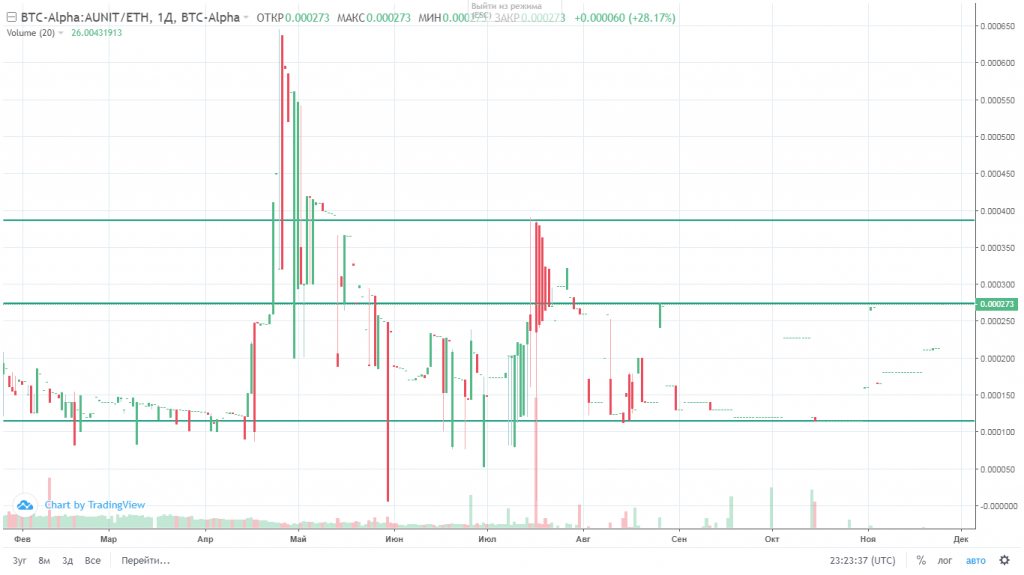 Good luck to everyone, bye.