11.07.2019
Trading with Aunit/USD pair has broken record!
During the past day, trading volumes with Aunit/USD pair on the BTC-Alpha exchange exceeded 12.583 million Aunit (over $770000), which makes twice as much as the previous volume record. Along with growing credibility of token and the company behind it, this indicates that more and more traders and investors are including Aunit in their portfolio.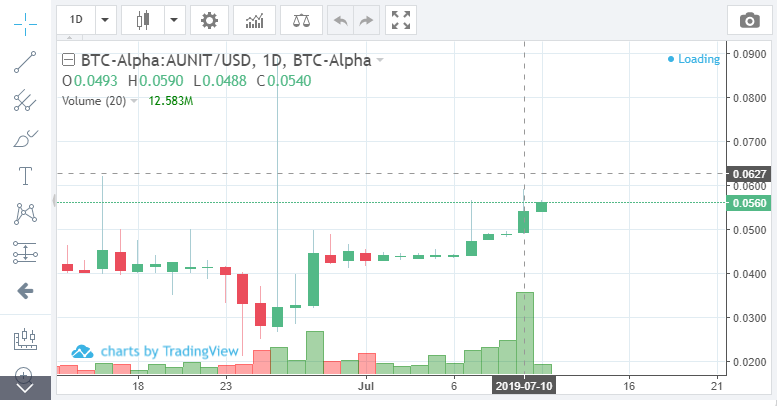 The Aunite Group's CEO Yevgeny Shchelkonogov is commenting on the current market situation:
"An upsurge in interest in our token owes to many factors, but I would highlight a few key reasons.
An important role belongs to high reliability of the Aunite Group as compared to other market participants. We definitely stand out against the background of startups and most other companies with 1 - 2 years' business record. The Aunite Group has already passed the most difficult stage of its formation, gained the trust of more than 1.5 million users, which makes all the difference for many investors.
Popularity of the token is also boosted by the upcoming competition Aunit-Rally 2019, which we are running together with BTC-Alpha exchange. We've prepared cool prizes for the participants: three iPads Air, iPhone X, and Macbook Pro. The contest rules couldn't be any easier: just buy from 1000 Aunit tokens and hold this balance on the account until the end of the contest. Aunit-Rally 2019 is starting on July 15 - you are welcome to join!
The growing demand in Aunit token can also be explained by our active work on development of the platform and the regular release of the innovative technical options. One of them is the Wulet e-wallet app: not only it simplifies the storage of all discount cards, but also gives access to discounts of other users (among which you may choose the best discount rates). We are going to focus on promotion of this particular project in the coming months to introduce its benefits to as many people as possible. Our goal is ambitious - to form a single club user base not only for Russia and the CIS, but throughout the world."
Sincerely yours,
Aunite Group team.